1 - 1 & group chat with the best in the world
Academics, journalists, sports stars, artists, entrepreneurs, actors, scientists, models and more...
Is this a scary time for boys?
The idea of this day is to focus on female leadership to make better lives for girls. The news may have moved off of the Supreme Court confirmation madness but millions of people haven't. There's a lot of talk about men not knowing what it's like to be a woman but some men don't totally get it. Donald Trump said "This is a very scary time for young men" and in response to that, a teacher from Texas named Lynzy Lab wrote a great song called "A Scary Time" and recorded a video of herself singing it. It is very well done and in the past few days it has racked up tens of millions of views. We invited Lynzy to come to California and perform the song here live for the first time and she graciously accepted.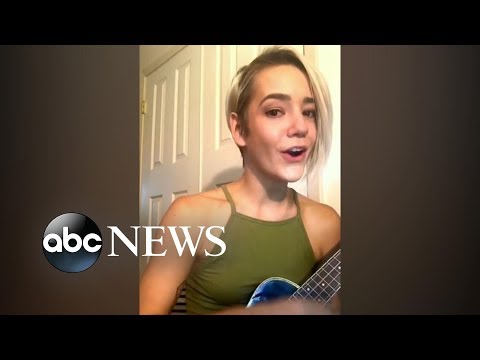 Image Credit: Jimmy Kimmel Live
This discussion is set to be extendable. After it expires, the content will remain, but all guests will be removed. After that if any guests decide to join it, more days will be added to the discussion
Host
Admin
This comment has been removed
Host
Admin
What's your opinion on this?
Host
Admin
I am mom of 12 year old boy and obviously I am a girl. I don't think it is right to stigmatize every boy/man that they are all bad. I am married to a good man. I believe the sexual abuse victims and agree something has to be done so that society changes. I can't imagine the way they feel. I support them. But not all males are the blame. There is so much sex on tv that young girls feel pressure to look like these scantily clad girls and boys are taught at early age to view girls as sex objects. I am doing best I can to teach my 12 year old how to love the Lord, live by morals and to respect women. Parents need to educate and lead by example to their children......both boys and girls. I feel it is a hard time for both boys and girls. Please don't blame all men and teach girls to hate men. This has to start at home. I want my son to grow up and make his way in life and meet a nice girl to marry and to share his life with as an equal partner. Singing a smart ass song isn't the answer. It only promotes more division. Our country doesn't need any more division.
Host
Admin
I do understand her message. I lived thru this time also. I am a nurse and had many doctors grab me and say inappropriate things constantly to me in the job while taking care of sick people. I saw how the old boys club works. Some men used to cover for the ones that were bad just to save their name while shaming those that they hurt. No I have never been assaulted and pray I never am. I pray for those that are or have been. I simply wanted to say that this whole world is a struggle. There are struggles at every angle. Everyone is entitled to their opinion and I respect that. I support any laws or movements that keep women safe and allow them to be heard. I am just saying that raising a boy isn't easy either. I don't want him to grow up and be one of those men. I strive everyday to teach him chivalry and respect to girls. I teach him how I expect to be treated. And I will be voting.
Host
Admin
Do I think Kavanaugh should have been appointed??? Heck no!! I totally believed Ford. That is a sign of the "old boys club". Didn't mean to upset anyone but it is a struggle with everything today. And we do have to vote to get people in office to make it better.
Host
Admin
Right is right and wrong is wrong, always has been and hopefully always will be. It's a song with a message.
Host
Admin
The "not all men argument" is getting so old and it's distracting from the women that have been assaulted. It's especially awful to hear women use the not all men argument.
Host
Admin
There is suffering from both girls and boys, men and women. Personally to me it's obvious women are not treated fairly or equally in our world. We need to do better, be better towards others and help promote fairness for all in our society.
10
more people followed this discussion
Host
Admin
My God, don't you get tired of being victims?
Host
Admin
Wait a second here. What about trans-boys or trans-girls? What about the plethora of non-binary people? Aren't girls equal to boys? This sounds like a rather sexist song and very insensitive to everyone who doesn't identify as boys or girls.

Funny how people like this contradict themselves to make a bad point.
Host
Admin
Finally someone said it! Sure is scary time for men
Host
Admin
Stand up for the right things in life is a good thing deal with it!
10
more people followed this discussion
Host
Admin
Just like there are men that are pieces of shit to do that there are women who cry rape so while you sing this song while i do feel terrible for women who ever experience such a horrible situation as you might have from your song or it was just to make it sound catchy and relevant to you, there are boys and men who are watching their families and talking to them on phones through an inch of Plexiglas, in fear of their life because even if they didn't do it, there are others in their facilities that don't care and may kill them for a wrongful conviction.